Try this recipe for a healthy and delicious dragon fruit smoothie!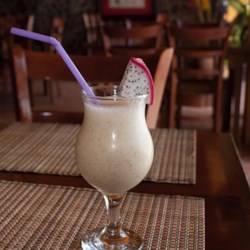 Ingredients
2 tangerines, peeled and segmented
1 lime, juiced
4 leaves fresh basil
2 tablespoons brown sugar
1 cup sparkling mineral water, chilled
1 cup crushed ice
Directions
Cut two 1/4 inch thick slices from the peeled dragon fruit to use as a garnish; set aside. Place the remaining dragon fruit into a blender along with the tangerine segments, lime juice, basil, brown sugar, and sparkling water. Puree until smooth. Stir in the crushed ice, and pour into glasses. Garnish with the reserved dragon fruit slices to serve.
Serves 2
Total time: Ten minutes
Idea from: All Recipes
More info about Fruit Trees: http://www.plantogram.com
AD