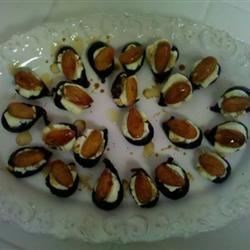 "This is a combination of several fresh fig appetizer recipes. The flavors of fresh figs, tangy goat cheese, salty almonds, sweet honey, and balsamic vinegar contrast to make these a delicious and very pretty appetizer. Arrange figs in a circle, tops facing in, for a flower effect and this will be a lovely addition to a bridal shower menu! If you can find Marcona almonds, use them! They are a Spanish almond that tastes like a cross between an almond and a cashew."
Ingredients
4 ounces
herbed goat cheese
2 teaspoons
balsamic vinegar
Directions
Preheat the oven broiler for high heat.

Place the fig halves, cut side up, on a baking sheet. Top each half with about 1/2 teaspoon goat cheese. Place one almond on each, press to push the cheese slightly into each fig.

Broil the figs in the preheated oven until the cheese is soft and the almonds are turning a rich shade of brown, 2 to 3 minutes. Remove from the broiler and let cool for 5 minutes. Arrange the figs on a serving platter and drizzle with honey and balsamic vinegar. Serve warm.