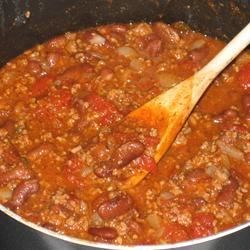 Ingredients
2 lbs ground beef
2 onion (chopped)
4 cloves garlic (minced)
2 tbsps chili powder
2 tsps salt
2 tsps dried oregano
58 ozs stewed tomatoes
15 ozs tomato sauce
15 ozs kidney beans (with liquid
Directions
Combine ground beef, onion, and garlic in large stockpot. Cook and stir over medium heat until beef is brown. Drain.

Stir in chili powder, salt, oregano, tomatoes, and tomato sauce; break up tomatoes while stirring. Heat to boiling, reduce heat to simmer, and cover. Cook, stirring occasionally, for 1 hour.

Stir in beans. Simmer, uncovered, for 20 minutes; stir occasionally.
Recipe by Michelle