Enjoy a homemade raspberry pie with this recipe!  This recipe is simple and can be enjoyed in an hour and a half!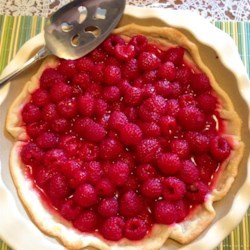 Ingredients
1/2 cup water
4 cups fresh raspberries, divided
2 tablespoons cornstarch
1/4 cup cold water
1/2 cup white sugar
1 tablespoon lemon juice
1 (9 inch) baked pie crust
1 cup whipped cream for garnish
Directions
Heat 1 cup raspberries and 1/2 cup water in a saucepan over medium heat; cook and stir until raspberries soften, about 5 minutes. Strain raspberries into a bowl through a fine mesh sieve; discard seeds. Return mashed berries to the saucepan.
Stir cornstarch and 1/4 cup cold water in a bowl until dissolved and stir into mashed berries; add sugar.
Heat raspberry mixture over medium heat, stirring constantly, until thickened, about 5 minutes. Stir in lemon juice. Allow raspberry sauce to cool to room temperature.
Line the prepared pie crust with remaining 3 cups raspberries. Pour raspberry sauce over berries and chill until set. Serve garnished with whipped cream and lemon zest.
Serves 12
Prep time: 20 minutes
Total time: 1 hour and 30 minutes
Idea from: All Recipes
More info about Fruit Trees: http://www.plantogram.com
AD